A dance production contemplating the relationship between water and humankind
Alica Minar & col. in collaboration with raum4 e. V.
The international, participatory dance production explores our changing experience with water in our memories and in the present. As an outdoor choreography PERMEANCE seeks to evoke a sense of cohesion and harmony with nature and with oneself. At the same time, the multilingual piece conveys a sense of playfulness and lightness, as if drifting on the water's surface on a summer's day, only to be gradually and easily drawn deep into the theme as if by a siren.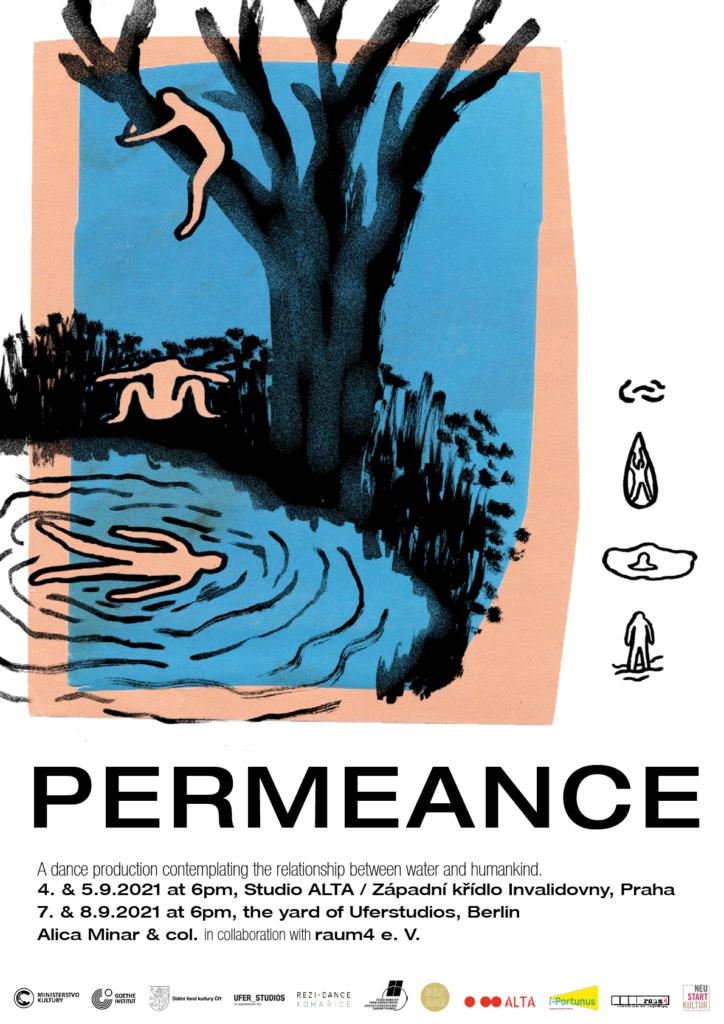 Dance:
Nicola Storey, Johanna Šilarová, Lenka Vořechovská
Text:
Katarína Bakošová, Henning Bochert
International coproduction of:
Alica Minar & col. z.s. & raum4-netzwerk für künstlerische alltagsbewältigung e. v.
Photos by:
Vojtěch Brtnický, Darja Lukjanenko, Vojtěch Vořechovský, Alica Minar
Supporting:
Ministerstvo kultury České republiky, Česko-německý fond budoucnosti, Státní fond kultury ČR, i-portunus, Goethe Institut Praha, Dachverband Tanz Deutschland, Uferstudios
Residence:
REZI.DANCE Komařice, Bazaar festival